It's a commonly asked question: what is NCR printing? In short, NCR printing is the printing of any information (text or graphic) onto NCR paper. However, to fully understand NCR printing we need to answer a few key questions…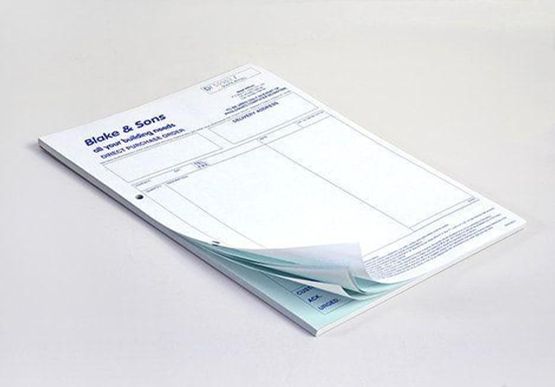 What are NCR forms?
NCR stands for 'No Carbon Required'. NCR paper allows the writer to create duplicates of any written document, without the need for any carbon paper.
Carbon paper is an old-fashioned device, normally blue in colour, which sits between two pieces of paper in order to make a copy. NCR printing allows for copies to be made, without the need for any additional equipment – including the carbon paper!
Does NCR printing create copies?
Yes! If you write on the topmost piece of paper, you will create an identical copy on the subsequent paper. You can even create 2 or 3 copies if you choose a suitable NCR pad.
Why is NCR printing useful?
Good question! Nowadays, with the rise of computers, at first glance it might seem a little odd to need to make instant copies of something handwritten. Why not just type and print multiple copies, you may think?
However, NCR printing is invaluable for on-the-go jobs, where the contractor wouldn't have time or access to a word processor. For example, NCR printing is incredibly useful for invoices and receipts for tradesmen, like electricians, plumbers, waste disposal services and boiler servicing. Two copies means one copy for the trader, and one for the customer. The process is instantaneous, so you don't need to wait for a computer to fire up and the printer to sync!
NCR pads printing
NCR printing is available in black and white or full colour. Create your own custom NCR paper in convenient pads. Choose Pantone colours to create an eye-catching, branded NCR pad. Display your logo prominently to make sure that, when your customer sees their receipt, they'll know exactly who to get in touch with, should they need any additional assistance in future.
Should you need any further questions answered, don't hesitate to get in touch with our friendly team today!